IPS-1335: Carbon Yarn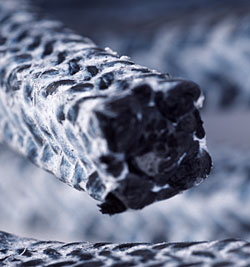 Construction
IPS-1335 is manufactured in the Interlocking construction or trapezoidal from the highest quality carbon yarn, at a minimum of 96% pure. Fully impregnated with PTFE, provides effective sealing of all voids within the packing and locking the surface yarns in place.
Characteristics
IPS-1335 is a dense, fully impregnated, highly chemical resistant packing with excellent heat conductivity; for use in chemical and high temperature applications.
Performance
Temperature
to 850º F
Pressure 500 psi
valves 2500 psi
PH 1-14
Surface Speed
to 4000 FPM