Universal Seal Water Cage Lantern Ring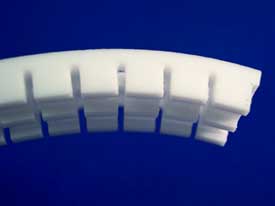 The USCLR Lantern Ring is made from virgin PTFE and may be used in all services in the pH range 0-14, except molten alkali metals, Temperature to 500° F (260° C). It is available in all standard cross sections and widths.
Manufactured from Pure Virgin Extruded PTFE
pH 0-14
Temperature to 500° F (260° C)
Coil Length of 4 feet
Reduces Inventory by eliminating individually sized lantern rings
Slotted side for easy installation and removal
Installation

The Universal Seal Cage Lantern Ring is simple to use. Just uncoil the length, wrap it around the pump shaft and cut to size on site. Ring will spring to the bore of the stuffing box providing shaft clearance. Short lengths can be used to form one lantern ring.
For perfect end joint fit, wrap 2 turns of electrical tape around a mandrel of the same diameter as the shaft & butt cut.