Style 6902 "Seal Rope" Washer Packing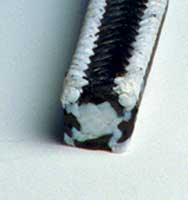 Style 6902 "Seal Rope" is braided from an expanded TFE/Graphite composite yarn and expanded TFE yarn for extrusion resistant corners. Resistance to "stretch" is provided by the expanded TFE yarn used axially.
Applications
Style 6902 is useful in all types of brown stock and bleach washers.
*Please note that there is also an Acrylic/Aramid Seal Rope Style 4200 available. Please contact us for more details.
pH 0-14
Surface Speeds: to 1200 fpm (6.1M/sec)
Pressure
1,000 psi (69 BAR)
Temperature: to 500°F (260°C)