Style 102/150 "Seal Rope" Washer Packing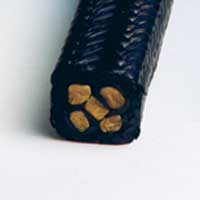 Style 102/150 Seal Rope has a low friction graphite/TFE composite fiber tightly braided around centrally placed non-stretching cores of aramid yarn. The composite fiber provides low friction for the the sealing surface and the best rate of heat transfer possible. The aramid center yarn provides the non-elongating part of the packing construction.
Sizes
Style 102/150 is available in 5/8″ and 1″ cross sections as well as metric cross sections of 20mm and 25mm. Other sizes are available, please contact your local distributor for more information.
pH 0-14
Surface Speeds: to 3000 fpm (15.3M/sec)
Pressure
Valves to 250 psi (16.7 BAR)
Temperatures:
to 500°F (260°C)