Style 200 AKII PTFE Chemical Packing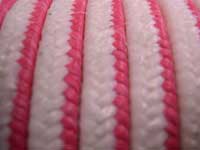 Style 200 AKII is densely constructed from PTFE filament yarns containing heat conductive fluroplastic filaments. The yarn is uniformly impregnated with PTFE suspensoid and additionally treated with an inert lubricant. A lightly colored lubricated TFE yarn is braided in diagonally oppsed corners in our patented HYDROPACKING™ design.
Initially designed for bleach valves and towers, Style 200 AKII may also be used against air, oils, solvents, gasses and other fluids where contamination may be a problem. This packing should not be used in molten alkali metals or free halides.
Applications
The chemical intertness of Style 200 AKII provides high speed, non-contaminating sealing where harsh fluids must be contained including rotating pumps, agitators, mixers, and bleach washers. Especially suited for sealing valves in chemical, agricultural and petroleum processing industries.
pH 0-14
Surface Speeds: to 2000 fpm (10.1M/sec)
Pressure
2,500 psi (137 BAR) reciprocating
Temperature: to 500°F (260°C)