Style 120-P AKII Advanced Food Service Packing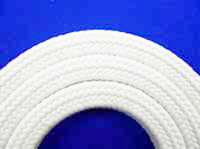 Style 120-P AKII is manufactured from 100% mix of PTFE fiber and dispersion incorporating a lubricant in just the right amount to resist glazing.
Services include food process fluids of all kinds, potable water, and any process where sanitation is a criterion.
The yarn used in Style 120-P AKII complies with requirements in Title 21 CFR 177.1550. The lubricant complies with title 21 CFR 178.3570 for USDA incidental food contact.
Applications
All food handling equipment with rotating shafts, reciprocating rods, rams, presses, and rotating and rising stem valves.
pH 2-13
Surface Speeds: to 1200 fpm (6.1 M/sec)
Pressure
1,500 psi (103 BAR)
Temperature: to 450°F (232°C)