Style 102 AKII Blackjack™ Packing
Style 102 AKII is densely braided from 100% GFO® material, a filament yarn made from finely ground particles of graphite encapsulated in an expanded PTFE matrix. The yarn together with our ANTI-KEYSTONE® II Technology produces the highest combination temperature and surface speed of any TFE fiber based packing.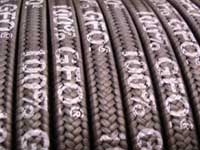 Style 102 AKII can be used in water, steam, pulping liquors, aromatic and aliphatic solvents and acids. Also effective against petroleum and synthetic oils as well as air and dry industrial gasses. This style should not be used in molten alkali metals and strong oxidizers.
Applications
The low coefficient of expansion, speed capability and good thermal conductivity of Style 102 AKII provides a highly versatile packing suitable for use in a wide range of pumps and valves handling processes in the petrochemical, power generation, metallurgical and pulp and paper industries.
pH 0-14
Surface Speeds: to 4200 fpm (21.4M/sec)
Pressure
2,000 psi (137 BAR)
Temperature: to 500°F (260°C)