SEAL/CO™ Lantern Ring Coil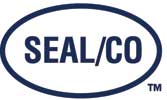 The Lantern Ring Coil™ is made from virgin PTFE and may be used in all services in the pH range 0-14, except molten alkali metals, Temperature to 500° F (260°C).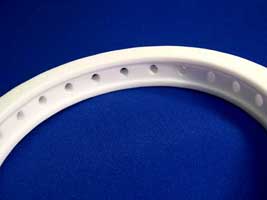 Manufactured from Pure Virgin Extruded PTFE
pH 0-14
Temperature to 500° F (260° C)
Long Lengths – 6 or 12 feet – Less Waste
Reduces Inventory. Eliminates Individual Lantern Ring Sizes
Universal in Application – doesn't Melt in your Stuffing Box!
Easy Removal – Lots of Pull Holes
Re-Usable – Has Been Tracked Through More Than SIX Repackings
Works Like a Machined Lantern Ring
Patented Construction (US patent #5,022,660)
How to Select Size
Simply choose the same cross section as the packing used in your equipment. To make double widths, combine two Lantern Rings.
Installation
1) Unscrew slightly more than required from restraining tube.
2) Cut slightly more than required from coil.
3) Place 3 layers of electrical tape around shaft.
4) Wrap LRC over tape.
5) Cut to length on an imaginary line to shaft center. Remove tape.
6) Install in proper location within packing set, staggering joint away from joints of adjacent packing rings.
(warm to improve flexibility if required)