Style 7800 AKII Exfoliated Graphite Packing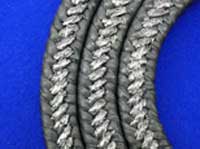 Style 7800 AKII is one packing that is nearly universal. Manufactured from flexible graphite with continuous filament carbon yarn used in the corners for extrusion resistance when clearances are excessive.
Style 7800 AKII is applicable for use in most services including steam, acids, bases, oils, solvents and water based solutions that are not strong oxidizers. (such as aqua regia, oleum, or red fuming nitric acid)
Applications
Ideally suited for plantwide pump and valve applications within most industries. This includes boiler feed pumps, condensate pumps, refiners, agitators, mixers, & hydropulpers. In addition vacuum pumps, fire pumps, fly-ash pumps, & soot blowers. Most manually operated valves can be effectively sealed with Style 7800 AKII.
Because of it's rapid heat dissipation, Style 7800 AKII can run "flush free" without any cooling water thus eliminating the lantern ring.
pH 0-14
Surface Speeds: to 4200 fpm (21.4M/sec)
Pressure
Valves to 5,000 psi (344 BAR)
Pumps to 500 psi (34 BAR)
Temperatures:
Non-oxidizers to 1800°F (1000°C)
Atmosphere to 850°F (430°C)