Style 7800SC AKII Vibradamp™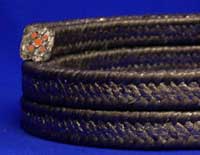 Style 7800SC AKII is manufactured from the same yarns as our Style 7800 AKII with strategically placed silicone (SC) cores. The resilient elastomeric cores in concert with our ANTI-KEYSTONE®II design reduce the leakage and gland adjustments where shafts on agitators, hydroturbines, and other equipment are out-of-round, vibrate, or subject to impact.
Applications
Applications include all the equipment listed for Style 7800 AKII Packing, within the limits specified, where vibration and shaft eccentricity is a problem. Style 7800SC AKII provides "flush free" service for pumps, agitators and mixers.
pH 5-10
Surface Speeds: to 4200 fpm (21.4M/sec)
Pressure
5,000 psi (344 BAR)
Temperature: to 400°F (204°C)