Style 104 AKII Bumblebee™ Packing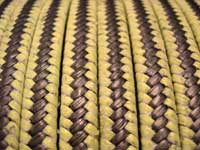 Style 104 AKII is our general service and paper mill packing manufactured from TFE/graphite composite yarn with four anti-extrusion corners braided from traditional aramid yarn.
Style 104 AKII effectively seals against sulfate, white, black, and green liquors, caustics, sulfite red or black liquor condensate, oils and pulp and paper stock.
Applications
Premier packing for agitators, thick stock pumps, repulpers, refiners and various process pumps within the paper mill.
pH 3-12
Surface Speeds: to 3700 fpm (18.8M/sec)
Pressure
2,250 psi (155 BAR)
Temperature: to 500°F (260°C)