Style 106SC AKII Vibradamp™ Packing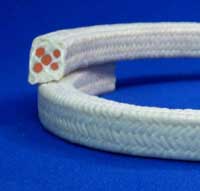 Style 106SC AKII is manufactured from the same yarn as our Style 106 AKII and also includes strategically placed silicone (SC) cores. The resilient elastomeric cores in concert with our ANTI-KEYSTONE®II design reduce the leakage and gland adjustments where shafts on agitators, hydroturbines, and other equipment are out-of-round, vibrate, or are subject to impact.
Applications
Applications include all the equipment listed for Style 106 AKII packing within the limits specified, where vibration and shaft eccentricity is a problem.
pH 5-10
Surface Speeds: to 2250 fpm (11.4M/sec)
Pressure
2,000 psi (137 BAR) reciprocating
500 psi (34 BAR) rotating
Temperature: to 400°F (204°C)