MECO® AH & AP Series Seals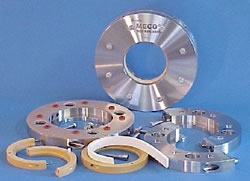 The MECO AH-series seals represent the latest refinement of MECO's classic elastomer-driven seal design. While using the same, patented principle of the MECO EAS, the AH series is designed to eliminate the process of setting seal face pressures. For the user who must frequently sanitize seals, this means simple, trouble-free installation after cleaning.
AH series seals are for use in low to moderate abrasive powder processes, on ribbon blenders and paddle mixers, reactors, screw conveyors, bucket elevators and similar blending or conveying machinery. AH and AP-series seals are also used as replacements for lip seals to isolate lube oil in bearings. These designs can be used in many cases where installation clearances are too tight to permit the use of other MECO seal types.