IPS-1275: General Purpose Packing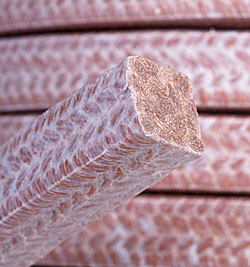 Description
IPS-1275 is a super clean general purpose packing designed to be used in difficult applications. IPS-1275 manufactured in the Interlocking construction or trapezoidal, combining a special blend of spun Aramid yarn with an ultra PTFE impregnation and then finished with break-in lubricant.
Characteristics
IPS-1275 is a strong, cool running packing and is easy to cut and install. IPS-1275 is recommended for pumps, reciprocating and moderate temperature valve service.
IPS-1275 is an ideal substitute for PTFE-Treated synthetic packing. IPS-1275 exhibits good solvent resistance however recommended for severe chemical applications.
Performance
| | |
| --- | --- |
| Temperature | to 500º F |
| Pressure 500 psi | PH 3-10 |
| Surface Speed | to 2200FPM |