Style 707-T AKII Graphite Filament Packing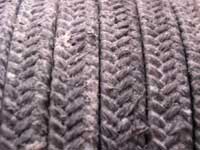 Style 707-T AKII is braided from the purest continuous graphite yarn lubricated with PTFE. The result is a packing that provides resistance to extrusion without affecting conformability.
Style 707-T AKII is applicable in acids, bases, gasses, oils, and steam. Especially effective against black, green, red and white pulping liquors.
Applications
High and low pressure feeders, outlet devices, top seperators, as well as chemical mixers and control valves where extrusion may be a problem and space for bull rings is limited.
pH 0-14
Surface Speeds: to 2000 fpm (10.1M/sec)
Pressure
3,000 psi (206 BAR)
Temperature: to 500°F (260°C)