Piston Cups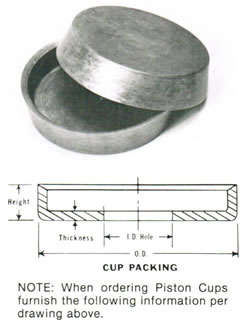 Our piston cups are made from the highest quality materials available, including the highest grade Leather to provide "successful sealing" -long life and a true value in service in all cup sealed equipment.
Type "B" Piston Cups
Type "B" piston cups are made from a special nitrile compound which is reinforced with the finest cotton duck or leather. Their low friction design is effective with air, water, oils and low pressure steam.
Applications include pressure relief valves the main and gate cylinders in pulp wood grinders and hydraulic jacks in rolling mills. Type "B" piston cups are available in all standard diameters to 60″ outside diameter.
Type "T" Piston Cups
The Type "T" cup is manufactured from virgin TFE and has application on pistons in equipment such as metering systems where corrosives and strong chemicals are handled.
OTHER MATERIALS: Our piston cups are also available in the following materials to suit individual applications: Type H, Homogeneous Nitrile (for responsiveness in low pressure sealing of air, oil or water); Type E6, Leather; and, Type U, Homogeneous Polyurethane.