IPS-1700-W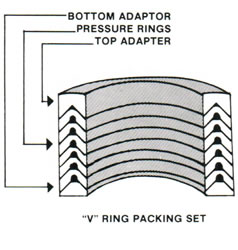 Our cotton duck "V" ring sets are designed for long service in reciprocating rams and plungers. All sets are supplied with top and bottom adapters and specially molded pressure rings to ensure sealing over the widest pressure variation possible, up to 250°F (1 20 ° C).
Many standard sizes are available.
To order, specify:
A. Outside diameter x inside diameter x depth of stuffing box
B. Pressure & fluid
C. Specify endless or split rings.
*IPS-1700-W is available by the set or in individual rings.