Mechanical Seal Repair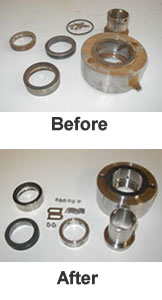 Mechanical Seal Repair provided by Industry Packing & Seal, Inc.
Mechanical seal repair is available on most seals from all seal manufacturers including but not limited to John Crane, Flowserve, Chesterton, PPC, AES, Delta, Flex-A-Seal, Burgmann, Robco, Sepco, Utex and many more.
A failure analysis is performed on every seal to determine why the seal failed. We will always make any necessary suggestions that will lead to increased seal life.
All seal components are completely cleaned, measured, pressure tested, and inspected to determine which parts can be re-used, or require replacement.
Seal faces are lapped to within industry standards (2 light bands).
Seal design and or materials can be upgraded as needed depending upon an engineered review of the seal application or by customer request.
Upon final assembly all seals are again inspected.
All mechanical seals, including single cartridges that are repaired in our facility are pressure tested before they are returned to the customer.
Industrial Sales & Services
Mechanical Seal Repair
– All Manufacturers Repaired
– Quick Turn-Around
– Engineered Failure Analysis
– All Seals Pressure Tested
Lapping Services
– Specialty lapping
– All shapes and sizes
– Tungsten, Silicon, Ceramic,
Carbon, all Steels
Wear Parts
– Specialty Castings
– Specialty Plastics
– Pump Parts