PPC Mechanical Single Cartridge Seals – 1500 series
Single Cartridge Seals Arrangements come pre-assembled and pre-tested, complete unit for quick, easy, and error free installation.
---
1500 Universal Heavy Duty Cartridge Seal
An amazingly versatile all-purpose seal furnished with bushing or optional quench seal housed in gland. This seal performs especially well in abrasive and light slurry applications, and its uncomplicated design gives greater dependability, longer life and ease of repair.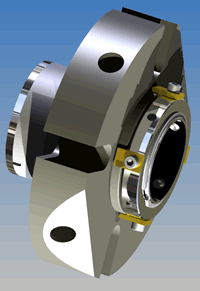 Cartridge Design
Versatile Works well in both vertical and horizontal applications
Adaptable Slotted gland fits most pumps, particularly in the ANSI line. API gland is available when specified.
Fast, Precise Installation Cartridge design allows easy installation. Preset assembly virtually eliminates errors.
Balanced Seal Design The 1500 is designed to handle higher pressures with minimal heat generation
Will not Damage the Sleeve or Shaft Dynamic o-ring does not contact pump shaft or sleeve.
Temperatures -20°F to 400°F (Depending on Application & Materials)
Pressures to 300 P.S.I.G. (Depending on Size & Speed)
---
1500 E General Purpose Cartridge Seal
Cartridge Design
Unique Clipless Design The 1500 E is the easiest on the market to install.
Tangential Flushing Works with either Clockwise or Counter-Clockwise rotation
Fast, Precise Installation Cartridge design allows easy installation. Preset assembly virtually eliminates errors.
ANSI pump compatible fits most popular ANSI pumps without modification to the stuffing box.
No Press Fit non-press-fit faces eliminates face warpage
Temperatures -20 °F to 400°F
Pressures to 300 P.S.I.G. (Depending on Size & Speed)
Speeds up to 3600 RPM
---
1500 EHD Heavy Duty Cartridge Seal
Cartridge Design
No Press-Fit Faces (Monolithic Design) Eliminates Face Warpage
Tangential Flushing Directs abrasive particles away from seal faces.
Setting the Seal is Automatic utilizing positioning buttons that do not require removal.
Metal Shroud prevents damage to the rotating Silicon Carbide face and allows for even thermal expansion.
Designed For Improved Performance in highly viscous services, off curve pumping, slurries, etc.
Springs are Stationary and are not affected by angular misalignment or centrifugal force, as well as being isolated from the product.
Temperatures -20° to 400°F
Pressures to 300 P.S.I.G. (Depending on Shaft Size & Speed)
Speed: up to 4500 SFPM
---
1500 ERB Cartridge Rotating Bellows Seal
Cartridge Design
Positive Pin Drive Eliminates distorted and out of round sleeves.
No Hang-ups, Fretting, or Wear to sleeve because there is no dynamic o-ring.
Setting the Seal is Automatic utilizing positioning buttons that do not require removal.
Welded Metal Bellows is a nested, double-rippled design that:

provides improved pressure handling.
distributes face loading evenly
is inherently balancedis self-cleaning
Tangential Flushing directs abrasive particles away from the seal faces.
Temperatures -20° to 400°F
Pressures to 300 P.S.I.G. (Depending on Shaft Size & Speed)
Speed: up to 4500 SFPM
---