1600-TC: V Packing for I.K. Insulated Soot Blowers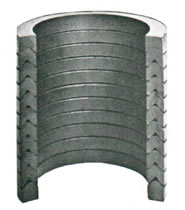 Helps support feed tube
Will not wear feed tube
Will not absorb water
This "V" ring style is fabricated from a specially formulated graphite/TFE mixture and has been developed for use in I.K. soot blowers with insulated feed tubes. The graphite rapidly transfers heat and provides strength to reinforce the TFE matrix. Unlike conventional soot blower sets, there is no wire to wear the feed tube. IPS-1600-TC is not porous and does not absorb water where water washing is done through the feed tube. Water absorbed by conventional soot blower packing during this operation or from condensate can flash into steam and destroy conventional soot blower packings.
Standard Sizes:
23/8 x 31/8 x 33/8″ deep
23/4 X 31/2 x 31/4″ deep
Custom Sizes: Available Upon Request
*Some of these stuffing boxes are only 3″ deep. To seal, remove one pressure ring from these sets.