IPS-45: High Grade Graphite Yarn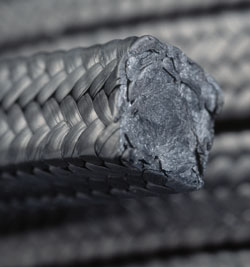 Construction
IPS-45 Is manufactured in the interlocking construction or trapezoida,l from the highest quality PTFE/Graphite yarns available.
Characteristics
IPS-45 is easy to cut without fraying, IPS-45 conforms readily to surface irregularities. The special siliconization process ensures a rapid break-in, with excellent heat transfer capabilities.
IPS-45 is perhaps the most recognized and used generic product. IPS-45 may be used in both slurry and clean environments, not recommended for strong oxidizing applications.
Performance
| | |
| --- | --- |
| Temperature | 550º F |
| Pressure 500 psi Valves 2000 psi | PH 0-14 |
| Surface Speed | to 4400 FPM |