IPS-2010: Hollow Core Packing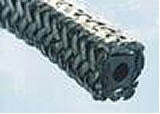 IPS-2010 Hollow Core Packing is specifically designed to reduce packing wear and shaft/sleeve wear in slow rotating equipments with excessive shaft run-out. In static joints where movement from expansion and contraction occurs, this product conforms.
IPS-2010 Hollow Core Packing resists gland follower load and excessive run-out or whip in shaft. Gland adjustments and repacking are greatly reduced.
IPS-2010 Hollow Core Packing is offered as per the suitability of the application and service. Materials used include Graphite/PTFE, Graphite yarn, Nomex. Core is manufactured from silicon, neoprene, buna,and aflas.
Equipment: Penstocks, Agitator Nutch Filter, agitator reactor vessels, mixers, Clinker Grinder, etc. in chemical, drugs, dyes and pigments, pesticides and allied process industries.