PTFE Joint Sealant by Readi-Seal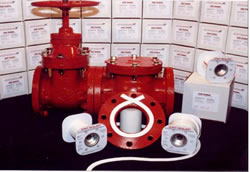 The Universal Gasketing Material On a Spool
Readi-Seal™. form-in-place Joint Sealant is ideal for a wide variety of sealing applications including:
Raised Face & Flat Face Flanges
Metal, Plastic & Glass-Lined Flanges
Rough, Scratched, Pitted & Otherwise Damaged Flanges
Round, Oval, Rectangular, Complex & Irregular Flanges
Pump & Compressor Housing Flanges
Boiler & Pressure Vessel Manholes & Handholes
Heat Exchangers
Misc Lids, Access Plates, Ducts, etc.
Readi-Seal™ PTFE Joint Sealant is soft & conformable, 100% virgin expanded PTFE, FDA compliant, easy installation &
removal.
Readi-Seal™ Expanded PTFE Joint Sealant is a soft, compressible gasketing material made of 100% pure, expanded PTFE. It is a form-in-place gasket that conforms to almost any sealing surface. Upon compression, it forms a thin, hard ribbon that fills in surface irregularities and creates an extremely tight seal. It is capable of withstanding a wider range of pressures, temperatures and chemical environments than any other soft gasket.
Readi-Seal™ can be used in just about any accessible bolted joint that features a flat or serrated sealing surface. It is also easy to install and remove, making it a highly versatile and cost-ffective solution for many demanding sealing applications.
Features
Form-In-Place: conforms to any surface, including rough, pitted, scratched and damaged surfaces.
Flexible: can be installed on round, oval, rectangular and complex surfaces.
Chemically Resistant: made without fillers or binders, our 100% PTFE Joint Sealant exhibits the same chemical inertness of pure virgin PTFE.
Adhesive-Backed: convenient adhesive strip and peeloff backing allow easy installation on both horizontal and vertical surfaces.
Readi-Seal: has an Unlimited Shelf Life, shows No Age Deterioration, and Resists Creep & Cold Flow
Pressure x Temperature
(psi x ºF), max 350,000
In-House Testing 5,500 psi Hydraulic Pressure .
1/4″ Material . 1,000 hrs without leakage
Width Standard Lengths & Bulk Lengths
1/8″ 50-ft 100-ft 500-ft 1000-ft
3/16″ 75-ft 150-ft 500-ft 750-ft
1/4″ 50-ft 100-ft 250-ft 500-ft
3/8″ 25-ft 50-ft 150-ft 250-ft
1/2″ 15-ft 30-ft 100-ft 150-ft
5/8″ 15-ft 30-ft 100-ft 150-ft
3/4″ 15-ft 30-ft 50-ft 100-ft
1″ 15-ft 30-ft 50-ft 75-ft
Specifications & Testing
Temperature Range: -450°F to 600°F (-268&degC to 316&degC)
FDA Compliant: PTFE to 21 CFR 177.1550 / Adhesive to 21 CFR 175.105
Pressure Range F.V. to 3,000 psi
(F.V. to 210 Bar)
ASTM F36 Compressibility 64-69%
pH Range 0-14
Independent Laboratory Testing: ASTM F38 Creep Relaxation 38-40%